Have you already got a cheesy Christmas Jumper? Or have you seen one that you need an excuse to buy? Look no further than the Christmas Jumper Party here at Littleover Lodge!
Live Music
From 8 pm until late there will be live music from the much loved Dave O'Hara! If you've been to one of our live music events before, you may already be aware of the beautiful sounds of Dave O'Hara's music. SO why not come along and get yourself a prime seat to listen to him once again!
Drink Deals!
It wouldn't be Christmas Eve without a glass of your favourite wine, maybe a glass (or bottle) of your favourite fizz or even a dive into our fantastic cocktail menu. You'll be happy to hear that we will have a number of drink offers available throughout the night.
2 for £10 on all your favourite cocktails. Lovingly prepared by the Lodge's little elves, aka our wonderful team of mixologists.
Double Gordons and lemonade for just £5. Take your choice of all the Gordons flavours and double up for an absolute steal! Ready for another?
Fizz time with our amazing selection of prosecco offers, you'll certainly want to treat yourself to some fizz.
Shots & Bombs may not be your usual tipple, but why not give one a try? It's Christmas after all!
For the best on-the-night deals speak to your server or one of the fantastic mixologists behind the bar. They'll point you in the right direction!
All Important Christmas Jumper
With this being a Christmas jumper party, can you guess what we want you to be wearing? That's right your very best Christmas Jumper!
Whether you have Rudolf, some penguins or even a pug draped in Christmas lights we want to see them all! We've seen some great ones over the years, so can you top it?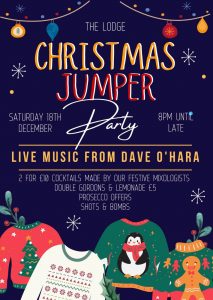 Grabbing Something To Eat
While you're here, make sure to dive into our fantastic gastro menu where you will find something to tickle the tastebuds of even the fussiest eater.
With it being a Christmas Jumper Party, why not consider booking in for our Festive Fayre menu? After all, You're already dressed up for the occasion. It can be a great way to gather with friends, colleagues and family for some great music, fabulous food and incredible company.
For more information on our Christmas Jumper Party or to book a table, please get in touch with one of our Christmas Elves today who will be happy to help.
Tuck into some great food at our gastropub in Derbyshire.