Don't feel up to cooking? No problem! Our delicious carvery in Derbyshire has everything you need to treat the family and save yourself the hassle of washing up! Here at Littleover Lodge, we've got a whole host of mouth-watering food menus available. Along with a traditional carvery with all the trimmings. And the best part? Our carvery in Derbyshire is available all day Sunday, with covers from 12-6pm! 
As a family-friendly hotel, a trip to our carvery in Derbyshire is an absolute must! From melt-in-the-mouth slow-cooked meats to the freshest veggies, home-cooked Yorkshire puds and potatoes roasted to perfection, we've got the works. And with us you can fill up your plate, get stuck in, then relax and socialise in our cosy dining area in the company of your loved ones. And you won't have to worry about a kitchen full of dishes to clean, either! 
Try the Most Authentic Carvery in Derbyshire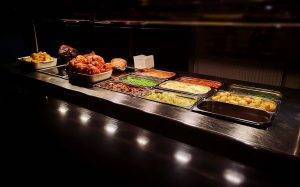 We are well known throughout Derbyshire for our traditional food menus with a modern twist. And our carvery is the ultimate way to celebrate quintessentially British food in all its glory. Our chefs are a dab hand at creating the carvery you have been dreaming of. All to be enjoyed within the surrounding Derbyshire countryside at the Lodge Bar & Dining. 
Also, all of our meat is sourced from the award-winning local butcher, Owen Taylor. Whose delicious meat is sourced from farms in and around Derbyshire, Nottinghamshire, and Leicestershire counties. At Littleover Lodge, you are always getting the freshest cuts at our carvery in Derbyshire!
Alongside your flavoursome carvery, we also have a huge range of drinks on the menu for you to enjoy. From high-quality wine and cocktails to soft drinks and hot beverages, we have the best selection. And we can't wait to welcome you for a delicious carvery in Derbyshire with all the trimmings!
Book A Carvery in Derbyshire Online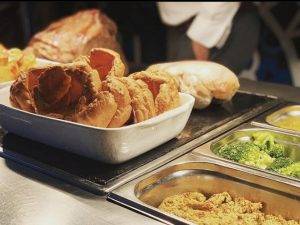 So, if a carvery in Derbyshire is just what you need to satisfy your food cravings, book a table online or contact our team for more information.
We get really busy on Sundays – therefore we highly recommend you book a reservation for this time to ensure your place!