Carvery in Derby
Is there anything more delicious than a carvery in Derby? Cooked fresh for you and made with all the trimmings, our delicious carveries are served throughout the week and are available until late on a Sunday for the whole family to enjoy. We think there's nothing better than getting together with family and friends, especially when good food is involved. That's why we are hugely proud to present our delicious homemade carveries for guests to enjoy.
Cooking for the whole family can be stressful and tiring. And that's before all the washing up! But here at Littleover Lodge, we take all the hard work out of getting the family together. And goodness, do our chefs know how to put on a spread. Not only is a carvery in Derby a feast for the eyes, it's guaranteed to fill you up and leave you satisfied.
The Lodge Bar & Dining offers a wide selection of dining options including our freshly produced Brasserie menu and highly popular home cooked carvery in Derby. Our carvery is freshly cooked using a large range of locally sourced produce including award winning Owen Taylor meat joints. With deliciously tender roast meat options, as well as a wide selection of fresh vegetables and trimmings finished off with lashings of gravy, you're guaranteed to love our carvery!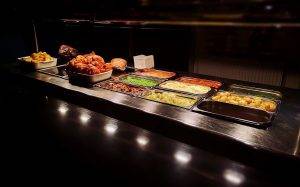 ---
Due to current circumstances, our carvery in Derby is not currently available. We are serving Roasts from the kitchen on Sundays for £10. For more up to date information please call our reception team direct
---
Book Your Carvery Today
Hungry for one of our delicious carveries? We don't blame you! If you'd like a taste, get in touch today to book your table. If you are planning your visit for a Sunday, we do recommend booking. Especially if you are bringing the whole family with you. This is because we get extremely busy and we hate turning people away.
To find out why we're home to best carvery in Derbyshire, why not pay us a visit? We'd be more than happy to see you at Littleover Lodge!