As the lovers day gets closer, have you thought about how you will be spending Valentine 2022? We're certainly hoping it's not in another lockdown! Here's how you can spend it with us!
Start With Some Fizz
There's no better way to start your Valentines date than to crack open a bottle of the good stuff. It doesn't quite have to be champagne, but a nice prosecco to start while you are making your food choices surely wouldn't go amiss!
Valentines Dining
This year, we have a stunning tapas menu designed to share between you, for a touch of added intimacy. This wonderful menu has been carefully selected to include an array of dishes that can be both shared and split, depending on if you have a partner who doesn't share their food! We all know one, don't worry!
All our tapas dishes are followed by a wonderful sharing platter of puds, just to end on something sweet.
Check out the full menu below: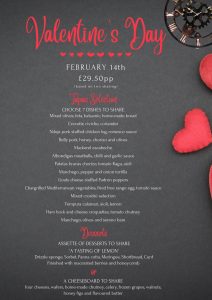 Stay The Night
Of course, the night doesn't have to end when the plates are cleared away. Why not book in and stay the night in one of our luxury en-suite rooms!
All of our rooms are en-suite, with a bed from heaven, proving to be the most comfortable you could ever imagine. So why not check in early, make the most of our bath or showers, before taking your time to get dressed up to come on down to the lodge dining room?
Or you might even treat yourself to a glass of fizz in the bath after your meal? The choices are yours!
You could even book in as a nice surprise for your loved one, just let us know it's a surprise and we'll have everything ready for you! Take a look at our stay the night page for full details on our bedrooms.
So, if you are looking for hotels in Derby this Valentine's day, look no further than Littleover Lodge! Get in touch today to check the most up to date availability and to book your fantastic en-suite stay today!