We're ramping up the Christmas vibes at JC Hotels in Derbyshire with some fantastic festive cocktails. Ideal for an after-work tipple with your colleagues and perfect for those 'just because it's Christmas' moments. We've put together a fun ever-so festive menu of cocktails brimming with Christmas spirit! 
Sip, Sip, Hooray!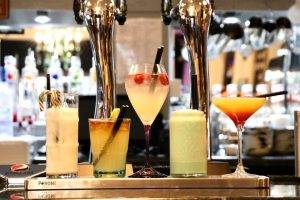 Is there anything better than a cheeky cocktail to get the party started? Whether you favour a classic Singapore Sling or something a little different. Our resident mixologist is on hand to whip them up for you! 
Our line up of Christmas cocktails includes candy cane garnished highballs, indulgent combinations and all the flavour you would expect from a festive round. We've also got a huge range of mocktails available including our fruity and refreshing smoothies!
Christmas Cocktail Menu
To make your Christmas extra special, we've got a whole range of special cocktails on the menu especially for you.
Jack Frost
This cocktail offers one good reason not to tell Jack Frost to get lost this Christmas! Made up of an irresistible blend of vodka, blue curacao, amaretto, cream of coconut and a generous serving of vanilla ice cream, it's delicious and indulgent – everything the festive season should be!
Dark & Stormy
When the weather outside is frightful, come in from the cold and enjoy a refreshing Dark & Stormy. Created with a blend of dark rum and lime juice, this flavoursome cocktail is topped with ginger beer and garnished with a lime wheel.
Winter Wonderland
Legend has it that this cocktail was invented by Santa himself! The iconic Winter Wonderland cocktail contains a precise blend of vodka, white creme de cocoa, cream of coconut and milk. For the finishing flourish, it's served on ice (of course) with a candy cane. 'Tis the season, after all!
Cosmopolitan
Simultaneously sweet and sour, the classic Cosmpolitan is Christmas in a glass! Containing lime-infused vodka, Cointreau, cranberry juice, and a splash of lime juice, it's the perfect pre-dinner cocktail to get you into the party mood.
Floridora
Dreaming of a Christmas spent in the sunshine? Try the next best thing, our delicious Floridora. With gin, lemonade, lime juice, raspberries, it's a bright and breezy tipple guaranteed to lift your mood.
P*rnstar Martini
Feeling fancy? Our P*rnstar Martini is served up in a chilled Martini glass that will pair effortlessly with your carefully chosen party outfit. Containing the usual suspects, vanilla-infused vodka, passionfruit puree, orange juice, apple juice and a dash of sugar, it's the ultimate cocktail.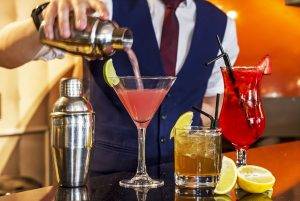 The Lodge Bar Pitchers
Fantastic for sharing, our bar pitchers have been given a festive makeover. Check them out here.
Pimms Punch
Who said Pimms is only good for summer? We've taken this quintessential drink and blended it with brandy, apple juice,  and lemonade, it's subtly spiced while packing a punch. For the piece de resistance, this festive creation is garnished with cinnamon sticks and a smattering of apple and orange slice.
Jingle Juice
Jingle all the way with our refreshing Jingle Juice. Made by elves at The Lodge bar, it's comprised of vodka, sparkling rose wine, cherry lemonade and cranberries.
Christmas Caipirinha
It is thought that Irving Berlin wrote White Christmas in sunny California. Well, our Christmas Caipirinha was dreamed up in rainy Derbyshire, and it's just as iconic! Featuring an irresistible blend of spiced rum, mint, ginger beer, and lime zest, it's a delicious twist on a classic you'll love.
Pomegranate Prosecco
For our premium pitcher, we've given prosecco a Christmas makeover adding Cointreau, pomegranate juice,  lemonade and a garnish of lemon wedges and mint to make this refreshing cocktail.
Join Us For Festive Cocktails 
Whatever the occasion, our line up of cocktails and the beautiful, relaxing environment of The Lodge Bar is the perfect place to hang out with friends, catch up and celebrate in style. 
As well as delicious drinks, we've also got a mouthwatering menu of tasty morsels ready for you to sample including our famous stone-baked pizzas, gastro menu and delectable pudding selection. 
To book your table, give us a call today on 01332 510161 or to enjoy cocktails in our bar just come and see us! We are based in wonderful Littleover, just a short journey from Derby, surrounded by gorgeous countryside. The perfect place to cosy up, slow down and revel in the joy of Christmas!