The Latin phrase 'In vino veritas' means 'in wine lies the truth'. But navigating the varied and eclectic world of wine isn't always plain sailing. So, to help you find the perfect pairing for you, we've put together a guide to wine to help you separate Sauvignon Blanc from Chardonnay and know your Merlot from your Shiraz. If nothing else, this one-stop for all things vino related will give you the knowledge to impress your friends and colleagues at your next apres-work gathering. At best, you will find a new tipple to perfectly complement your next meal!
In this first instalment, we'll be telling you everything you need to know about white wine. As well as giving you an idea of what kind of dishes work well with the most popular whites out there today.
A beginners guide to wine
First of all, what is wine? You probably already know that it's made with grapes, but these aren't the ones that you would find in the supermarket unless they're in a bottle! There are more than 1,300 different types of grape that are made to use wine, and these are generally smaller, sweeter and contain seeds. Broadly, grapes for wine all originate from one species of grape called Vitis vinifera.
To make wine, grapes are broken down and the juice fermented for some time. Single-varietal wines are made with just one type of grape. For example, Reisling wine is made with Reisling grapes. And wine blends are made with, as you'd expect, a blend of several different grape varieties.
That's about all you need to know about what wine is and how it's made. What we're interested in is: what different tastes are out there? And how do you go about picking the right wine for your meal or mood?
Wine glossary
We aim to tell you everything you need to know about common white wines below. But, before we do, here are a few common words related to wine to get you started.
Acidity: Wine varies in acidity, and some are needed to give a fresh feeling in the mouth. Without it, wine wouldn't have its distinctive taste.
Aroma: As you'd imagine, the word aroma is used to describe how the wine tastes.
Body: This term describes the texture and the weight of the wine in your mouth. Full-bodied wines are generally heavier and most commonly red.
Dry: Dry wines aren't sweet because during the fermentation process they are left longer and all of the sugar present is used up. Sweeter tasting wines are sweetened by residual sugar, which is left behind when the fermentation process is halted before the yeast uses it all up.
Vintage: The year the grapes were picked to make the wine
All about white wine
You've most probably heard of the most popular varieties of white wine (and the grapes that make them). These are Chardonnay, Riesling, Sauvignon Blanc and Pinot Grigio.
Chardonnay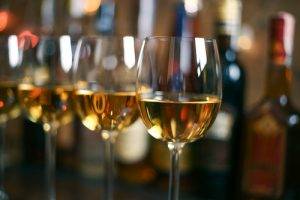 The Chardonnay grape is most commonly used in the making of dry white wine. But it's also used for Champagne, too. The reason why Chardonnay is such a well-known and popular variety is that it can be grown almost anywhere in the world.
Chardonnay wine boasts fruity aromas and flavours, which can vary in relation to where the grape is grown. For example, in cooler climates apple dominates. While grapes from more warmer climates bring flavours of pineapple and other tropical fruits. You may also notice an oak flavour in many Chardonnay's, which can be attributed to oak treatment either during fermentation (in oak barrels) or after.
Enjoy with: seafood, fish, chicken, pasta, risotto, spring vegetables.
Riesling

Riesling wine is German in origin and is generally sweeter in taste and more intense in smell than Chardonnay. Depending on the ripeness of the grape upon picking, you will detect flavours such as lime, lemon, pineapple, and apricot upon tasting.
Enjoy with: duck, pork, bacon, chicken, prawns, roasted vegetables, dried fruits
Sauvignon Blanc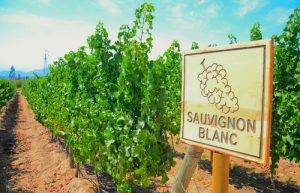 Usually dry, Sauvignon Blanc is one of the most popular varieties of white wine. While the grape originated in France, it was popularised by New Zealand growers and has now become the 8th most planted grape variety in the world. On the shelves of your local supermarket and at bars and restaurants you will find a huge range of countries are creating Sauvignon Blanc, including France, New Zealand, Australia, California and Chile.
Another dry wine, it's sometimes described as 'grassy' in flavour. Drinkers may also experience fruity flavours such as melon, figs, or even passion fruit. As it is high in acidity, it's a fresh, tart wine that doesn't often carry oaky flavours. For that reason, this type of wine is best paired with lighter foods.
Enjoy with: delicate fish, oysters, goats cheese, green vegetables, salads
Pinot Grigio
Pinot Grigio, also known as Pinot Gris, is deeper in colour than most whites because the grape itself is darker than most. This type of wine is popular the world over because it is low in acidity and neutral in aroma. In this way, it isn't overpowering and is generally medium-to-full-bodied.
In a common Pinot Grigio, you're most likely to detect flavours of lime, green apple, lemon and nectarine. It may also be quite floral, however, it is less sweet than Chardonnay.
Enjoy with: fish, chicken, turkey, mint, ginger, cinnamon, Grana Padano, Gruyere, fresh vegetables such as cauliflower and broccoli.
Enjoy a rich and varied wine list at Littleover Lodge
At Littleover Lodge, we offer customers a rich and varied wine list to customers in both our bar and restaurant. Our selection includes warming port and sherry (ideally paired with a delicious cheeseboard), Champagne, Cuvee, prosecco, a selection of whites ranging from crisp to oaky, rose varieties and full-bodied, punchy reds.
To dine with us, contact us today to book your table. Littleover Lodge is so much more than just a hotel. At the Lodge Bar, we offer a huge variety of drinks menus (we're one of the leading cocktail bars in Derby), as well as a delectable menu of delightful food including a dedicated pizza menu, gastro menu and legendary dessert menu!